types of Wardrobes
Quintessential modern wardrobe categories that serve personalised and functional purposes.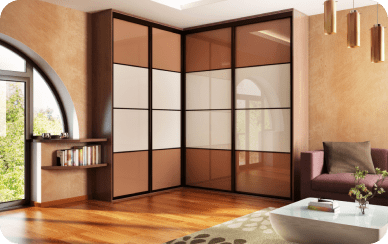 These types of wardrobes offer ample storage space while also being space-efficient. Sliding wardrobes can fit in any crevice rendering a sleek look.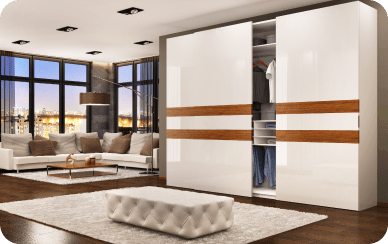 Using convenience as key, these types of closets have sliding doors as opposed to swinging apertures. Engineered with intricate craftsmanship, floor to ceiling wardrobes offer ample storage space.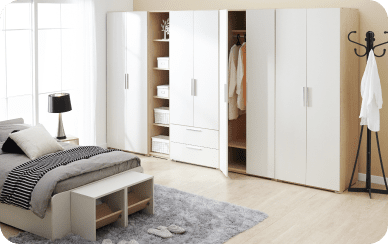 Wardrobes with an attached hinged door open on the outside providing increased visibility. These types of wardrobe designs are adaptable with almost all interior themes.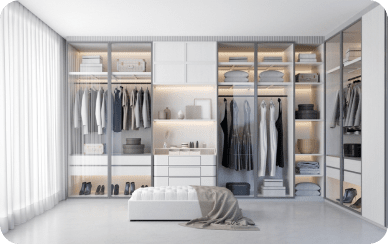 This wardrobe design offers innovative storage solutions by rendering sufficient space. Walk-in closets give you the luxury to browse the items in an organised environment.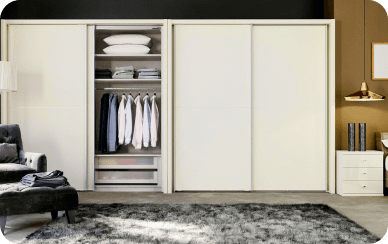 This closet design is customised as per your room's dimensions making it a flexible pick. Fitted wardrobes maximise the vertical space and revamp the awkward corners in the room.
Exclusive Wardrobe Design Themes
View All
From contemporary to traditional, these inspiring wardrobe themes will create a cohesive space.
Contemporary Theme Wardrobe Design

Modern Theme Wardrobe Design

Luxury Theme Wardrobe Design

Traditional Theme Wardrobe Design
Standard Dimensions of a Wardrobe Design
Skillfully crafted wardrobes result in an effective, organised, and hustle-free domain.
Let's Connect Our Wardrobe Experts.
Sliding Wardrobe Designs
View All
From modern to contemporary, these inspiring sliding wardrobe will create a cohesive space.
Wardrobe Components
Every element plays an intimate role in the creation of an immaculate modular wardrobe.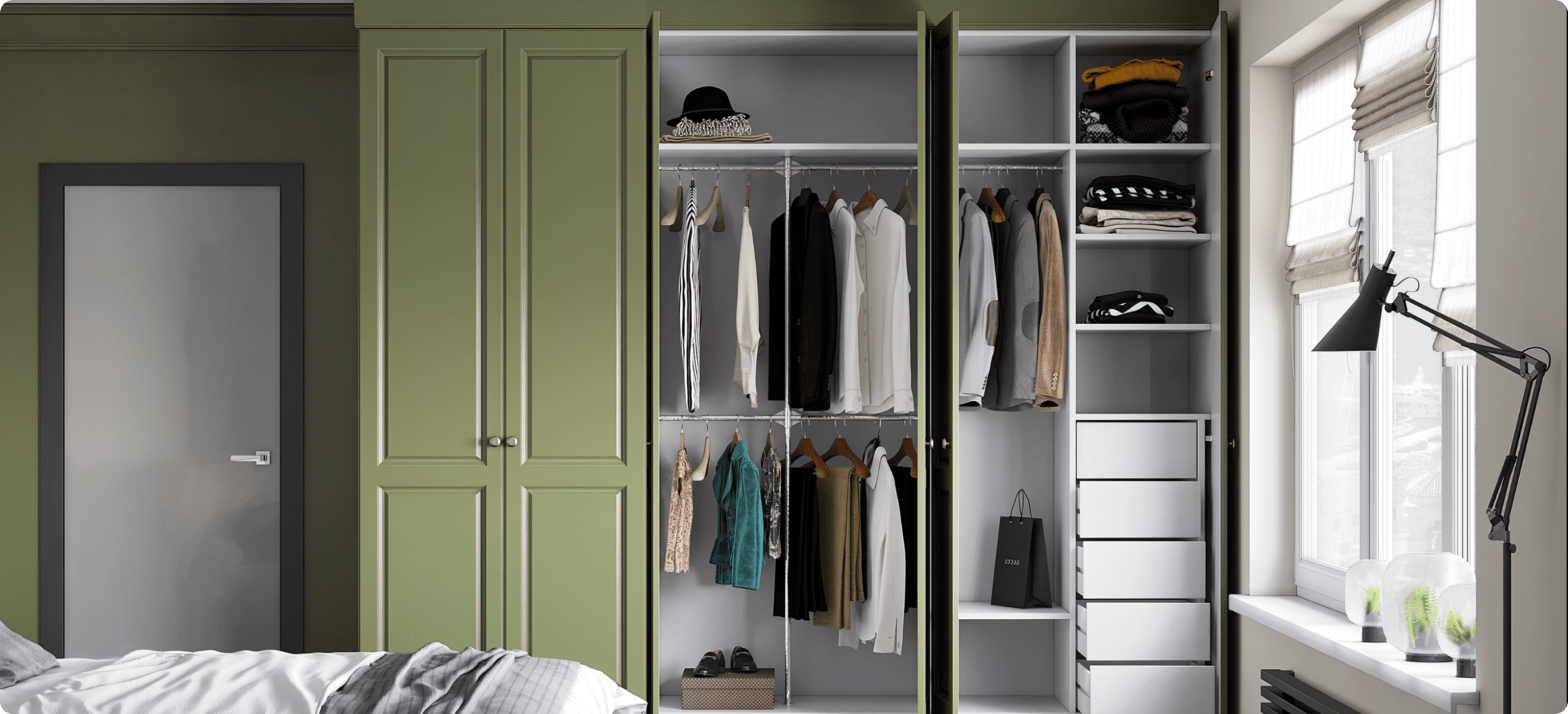 Core Material Used In Wardrobe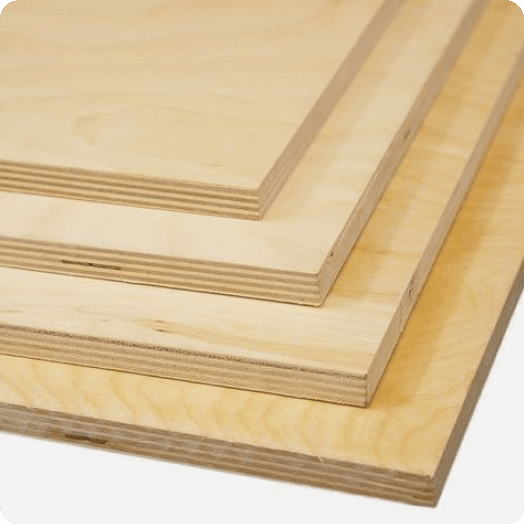 MR Plywood
Also known as commercial plywood, Moisture Resistant Plywood has great internal strength. The high intramural density makes it robust and resistant to folding. Its superior quality results in exceeding performance, bolstering your interiors.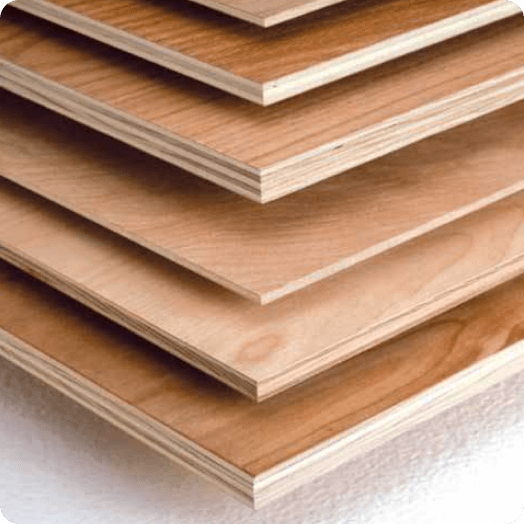 BWR Plywood
BWR or Boiling Water Resistant Plywood is made of phenolic resins resulting in its waterproof nature. Majorly used in home and office furnishing, this wardrobe material specification is eco-friendly, cost-effective, pest-resistant, and promises longevity.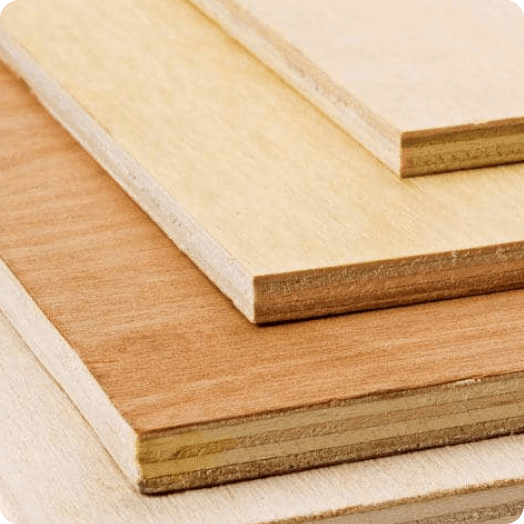 BWP Plywood
One of the best wardrobe materials, BWP plywood has the highest resistance to water and can withstand the vagaries of weather. It ensures maximum longevity, durability, flexibility, and strength.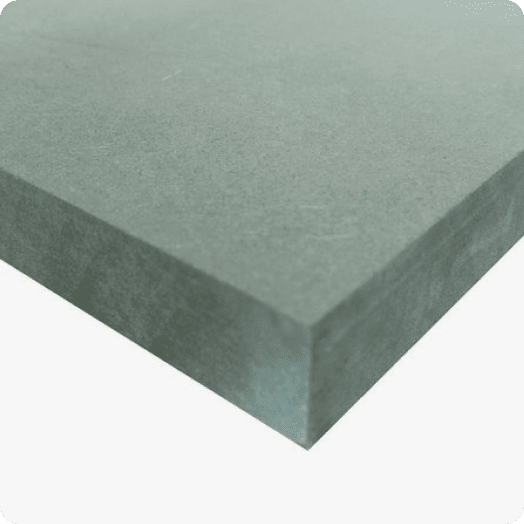 HDHMR
High-Density High Moisture Resistance or HDHMR plywood is developed with a homogenous construction process. This wardrobe material is tougher than plywood, extremely water-resistant, uniform, and cost-effective.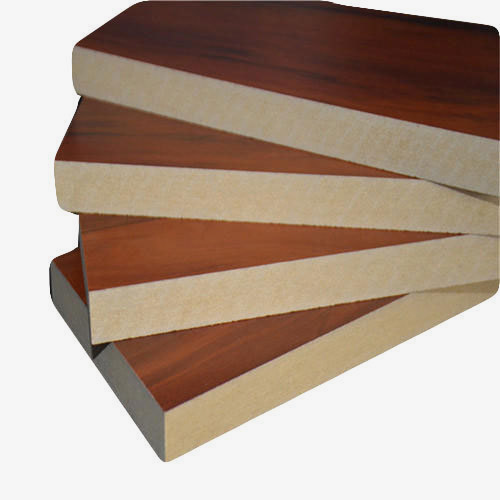 HDF
One of the most affordable options, High Density Fibreboard or HDF is known for its strength and water resistance. This engineered wood renders a sleek look in any interior decor, thanks to its durability and rigid structure.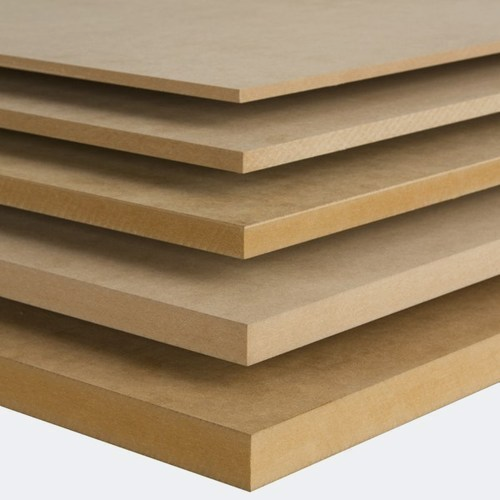 MDF
Medium Density Fibreboard or MDF board is produced by disintegrating softwood and hardwood composites. MDF is considered to be a cheaper material. Beautiful designs can be carved out of MDF owing to its smooth surface. It is a strong and dense particle board.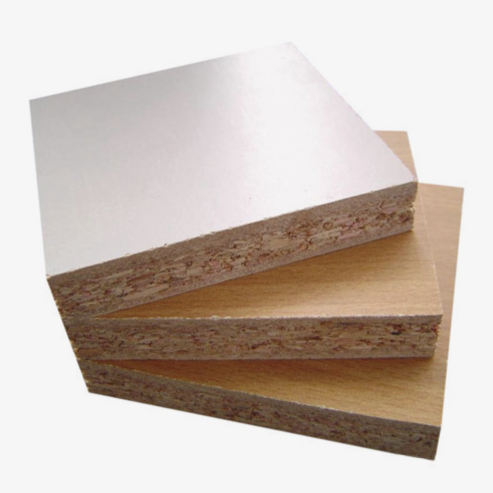 Particle Board
Particle board is constructed with numerous jute chips or wood which makes it malleable and gives it a smooth texture. These boards are known for their strength and affordability. Particle boards are also commonly used as an environmentally-friendly option.
Modular Wardrobe Material Comparison
 
Composition
Aesthetics
Strength
Affordability
Resistance
Customisation
Partical Board
Particle board is formed from compressed wood chips, sawdust particles and
resins together.
Low-quality and
appearance
Fragile and cannot withstan heavy loads
Cheapest among
all.
Exposed to moisture
damage
Suitable for readymade
furniture
MDF
Medium-Density-Fibreboard fabricated from wood fibres
and resins.
Smooth
finish
Highly
durable
More economical than plywood and HDF
Less susceptible to damages
Easy to cut in varied designs and styles
Plywood
The engineered material is made of thin layers of wood veneer
glued together.
Solid wood appearance and attractive look
Enduring and sturdy than MDF and Particleboard
Expensive yet
valuable.
More resistance to moisture damage and scratches
Rigid in
Design
HDHMR
HDHMR is uniquely crafted using the latest technology by compressing wood fibres and forest wood waste under high pressure.
Boasts smooth
and glossy finish
Highly dense
and more resilient
than any other material
Expensive yet
versatile and durable
High-moisture resistance,
effectively used for kitchen interiors.
Hard-wearing and
difficult-to-craft complex shapes
Design Your Own Wardrobe
Tailor-fit wardrobes that accentuate your style of living.
Comparison between Sliding, Floor-to-Ceiling and Hinged Wardrobes
Discover the most popular types of wardrobes based on storage, cost, ergonomics, drawbacks and efficiency.
 
Sliding
Floor-to-Ceiling
Hinged
storage
Sliding wardrobes provide enough storage space by adding elements like shelving and baskets.
Floor-to-ceiling wardrobes employ the entire available space on the wall for maximum storage.
Hinged wardrobes offer decent storage space, depending on the depth available.
cost
Although the cost of a wardrobe depends on factors like size, material, accessories, and labour cost, a sliding wardrobe is comparatively more expensive.
Although the cost of a wardrobe depends on factors like size, material, accessories, and labour cost, floor-to-ceiling wardrobes are less expensive than sliding wardrobes.
Although the cost of a wardrobe depends on factors like size, material, accessories, and labour, hinged wardrobes are usually the most inexpensive.
drawbacks
Sliding wardrobes have limited visibility and are expensive in nature.
Unless the ceilings are low or you are tall, reaching the top shelves is a strenuous task.
Since they swing outwards when opened, hinged wardrobes take up extra floor space.
efficiency
Sliding wardrobes fit even in the most compact spaces while creating an illusion of a bigger space.
Floor-to-ceiling wardrobes make the best use of the available space, maximise storage and create clean lines.
Hinged wardrobes provide the best visibility as they swing wide open and are easy to maintain.
How do i choose a wardrobe for my bedroom?
Adhere to these crucial factors for stunning bedroom wardrobe carcasses.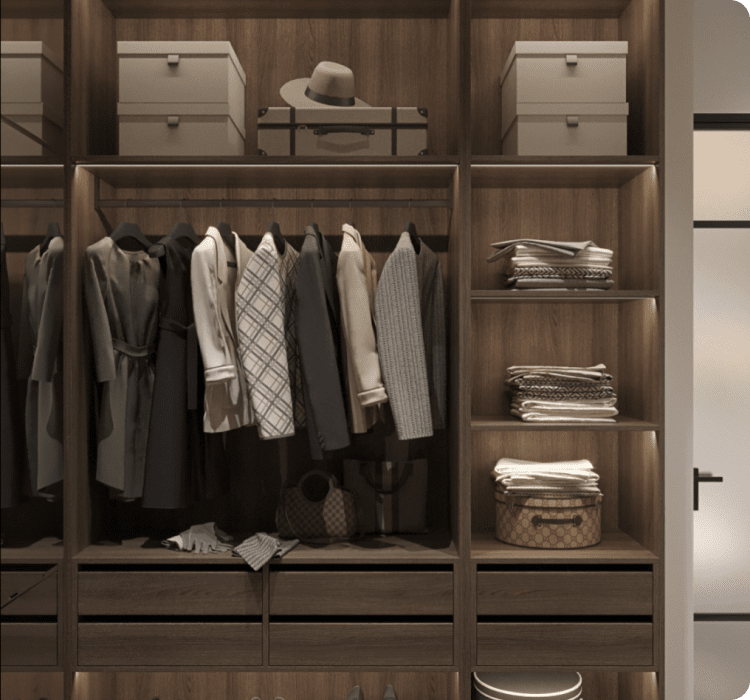 Modular wardrobe vs Carpentry wardrobe
Modular Wardrobe
Carpentry Wardrobe
Modular wardrobes are made as per the industry standards resulting in lesser flexibility.
The production quality can go unchecked as modular wardrobes are mass-produced.
Modular wardrobes are less adaptive in nature as they cannot fit every allotted size or space.
Modular wardrobes are cheaper than customised ones as they are built in large numbers.
Modular wardrobes are less user-friendly and durable than custom-made furniture.
Flexibilty
Quality
Adaptability
Pricing
Durability
Carpentry wardrobes offer greater flexibility and can be customised according to personal style.
Carpentry wardrobes allow one to keep a detailed eye on the quality and production.
Carpentry wardrobes can be designed as per the available space, dimensions, and desired size.
Carpentry wardrobes are more expensive as they are tailored to one's specifications.
Carpentry wardrobes are more durable and user-friendly owing to skilled craftsmanship.
Finishes that Define Modern Wardrobes
Explore an array of wardrobe finishes that enhance the aesthetics of your room.
Glossy Finish Wardrobe Design

Wooden Finish Wardrobe Design

Matte Finish Wardrobe Design
The Ultimate Wardrobe Design Checklist
Cohere these touchpoints to bring your dream closet to life!
The Major Do's and Don'ts of Wardrobe Planning
Abide by these guidelines for a seamless wardrobe design.
Exquisite Wardrobe Design Trends
Your inspiration for state-of-the-art wardrobes brushed with a finesse of trending themes.
The Shift towards Building Modular Wardrobes
There is no denying the fact that traditional furniture is witnessing a revolution, with people preferring eco-friendly and sustainable living. Since space has become more premium than ever, let's look at how modular wardrobes have become people's favourite.
Customisation Benefit
Modular wardrobes can be crafted as per your taste and preference. These wardrobes can also be customised to store extra belongings like accessories, shoes, and more.
Does Not Restrict Movement
Closets can be easily fitted in any room depending on wardrobe size and the space available. However, proper measurements of the room must be taken into consideration before installing the wardrobe carcass design to make the movement in the room convenient
Variety of Materials
Wooden materials have always been the most favoured for any kind of furniture in Indian homes. However, preferences for making a wardrobe are changing owing to the growing climate concerns and the popularity of eco-friendly materials. Medium-density fibre, and pre-laminated particle board are the types of engineered wood that are both weather resistant and cheaper
Customised Lighting
Lighting can be incorporated into the interiors of every cabinet with automatically programmed sensors so that you can easily locate your stuff in the wardrobe
Eco Friendly
The process of manufacturing modular furniture is shorter, producing less waste. The used materials are recycled and the internal wardrobe details are less complicated, making it an eco-friendly option
Main Wardrobe Components
Every wardrobe has most of these components that serve a specific purpose in making it functional
Hinged or Sliding Doors
Sliding doors are more popular than hinged doors, especially in small spaces, because they do not take up extra space for operation.
Pull-outs or Drawers
Drawers should be planned at an appropriate height within a wardrobe. Having a pull-out that is too low to reach or way too high would be futile. Ergonomically, a drawer must be positioned at the arm's length of the user. The drawers can be adorned with accessories to further increase storage.
Shelves
Some people like to fold their clothes and prefer more shelves in their wardrobes. Others prefer hanging their clothes and might desire fewer shelves in the wardrobe unit.
Railing
Railings are added within the wardrobe to suspend clothes on hangers. Not everybody likes to incorporate this element. The area that needs to be designated for storing clothes also differs as per needs and requirements.
Trendy Wardrobe Finishes
Veneer
Veneer is the closest to wood as it renders a classic look to your modular wardrobe. Veneer works best for rooms that are decked with dark colours. The veneer requires regular maintenance as it is prone to scratches.
Laminate
Laminate lends a wooden finish to your wardrobe without burning a hole in your pocket. It is available in a variety of colours and finishes, including matte and gloss, making it an excellent choice for any decor theme. Laminate is also practical. It is scratch-resistant and simple to maintain. The only disadvantage of laminate is that if it chips, you must replace the entire sheet.
Lacquer
If you want to paint your wardrobe, lacquer or polyurethane paint is one of the best options. Lacquer comes in a variety of colours, is long-lasting, and is simple to care for. Since lacquer paint renders a glossy finish to the wardrobe, it can work well for homes with European decor known for its vibrant colours.
Mirror
Using a mirror as a wardrobe door serves two functions. You could use it to dress up and conceal what's in your wardrobe. Mirror doors are ideal for small-space rooms. For starters, you won't have to install a dressing table, and the reflection of the room in the mirror will create the illusion of a larger room. However, using a mirror requires you to be cautious and maintain it properly.
Glass
Glass complements modern themes in sync with minimalism as these wardrobe carcass designs make the room feel lighter. When using glass, however, you must be extra cautious about the upkeep of the internal wardrobe details. Clothing and other accessories must be neatly arranged, or the entire room will appear cluttered. Glass will also need to be well maintained, cleaned on a regular basis, and used with caution.
Standard Wardrobe Dimensions
The wardrobe dimensions usually depend on the user's size requirements. However, more often than not, the standard wardrobe size is adhered to. The wardrobe cabinets are typically 24 inches deep while being as narrow as 18 or even 12 inches. The wardrobe height also depends on the use, but the standard height is maintained at around 72 inches. The wardrobe width ranges anywhere between 24 inches and 96 inches.
There are no stringent rules related to wardrobe cabinet measurements as long as they fit in the allotted space. The allowances for drawers, hanging space, and doors are figured out after the dimensions are finalised.
FAQs
What is the best material used in making a wardrobe?
Plywood, particle board, Medium Particle Fibreboard, solid wood, and glass are some of the best materials used in building wardrobes.
How do you plan a wardrobe layout?
The first step to planning your wardrobe carcass design is to allocate the space, take accurate measurements, choose the type of wardrobe that you require, finalise a style, and cut down a budget.
Is MDF strong enough for making a wardrobe?
Medium Particle Fibreboard or MDF, is a brilliant option for building wardrobes. It consists of wood residues struck down into sheets. The resulting surface is even and smooth which makes it one of the best wardrobe materials for painting.
What are the basic principles of a perfect wardrobe?
The basic principles of building wardrobes are to be aware of your habits, ergonomically plan the storage space, leave room for flexibility, and maximise the use of vertical space.
What is the width and depth of a wardrobe?
The standard wardrobe dimensions are a minimum of seven feet by 10 feet. The ideal wardrobe width is around 24 inches on each side. The normal wardrobe depth is supposed to be 26 inches.
Read More..